Heavy Duty Recovery Services in Akron, OH
Johnny's Auto & Truck Towing is the premier heavy recovery company in Akron, offering 24/7 heavy-duty recovery services for all your needs. When you need the big guns, Johnny's Auto & Truck Towing is a phone call away.
Accidents and mishaps happen to even the most careful and strategic heavy-duty vehicle operators. Whether you've had an accident, a tractor-trailer tip over, need off-road recovery, or any other situation, Johnny's Auto & Truck Towing offers 24/7 heavy recovery service when you need us the most. Some of our most common heavy-duty recovery service solutions in Akron and the surrounding area include:
Crane Services
Leaning Trailers
Sinking Trailers
Dropped Trailers
50-Ton Rotator Services
Truck Rollovers & Wrecks
Off-Road Recovery
Cargo Load Shifts, Load Swaps, and Transfers
Ditch Winch Outs
Big Rig Recovery
Decking & Undecking
Road Tractor Swap Outs
And more!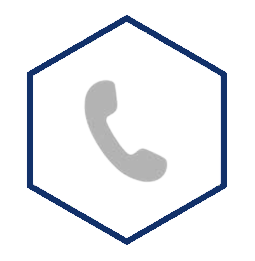 To learn more about our 24/7 Heavy Recovery Service and to speak to a member of our team, call us at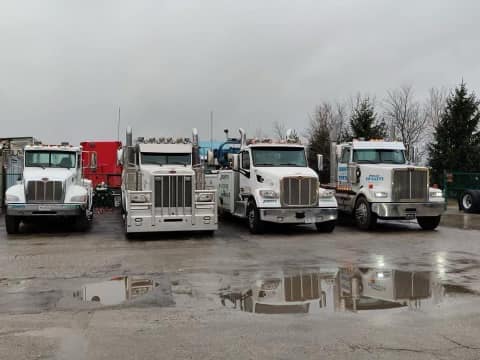 Heavy Duty Tow Truck Services
As the leading heavy recovery company in Akron OH, Johnny's Auto & Truck Towing offers every heavy-duty recovery and tow truck service you'll ever need. We specialize in safely towing all types of heavy-duty vehicles:
Big rig towing
Tractor-trailer towing
Agricultural equipment towing
Single axle semi-tractor towing
Large fleet vehicle towing
Construction equipment towing
RV towing
Coach bus towing
Large semi-tractor towing
Tour bus towing
City bus towing
Heavy equipment towing
Heavy-duty winching and heavy without
Heavy-duty off-road recovery and more
Our certified operators can effectively handle the size and weight of vehicles of any size.
Get a Quick Tow Truck Now
Akron Cargo Load Shifts, Load Swaps and Transfers
In addition to heavy-duty recovery services, we offer solutions for cargo load shifts, load swaps, and load transfers in Akron and the surrounding areas. Our cargo load shift service is perfect for when your load or equipment has become unbalanced due to uneven roads, improper loading, sudden braking, and other factors. Cargo load shift services will help alleviate the hazard to ensure the safe delivery of the load.
We offer fast and efficient load swap services where we exchange one shipment for another. Our load and heavy equipment transfer involves moving cargo from one mode of transportation to another.
No matter the need, Johnny's Auto & Truck Towing offers the equipment and expertise to provide the best solution.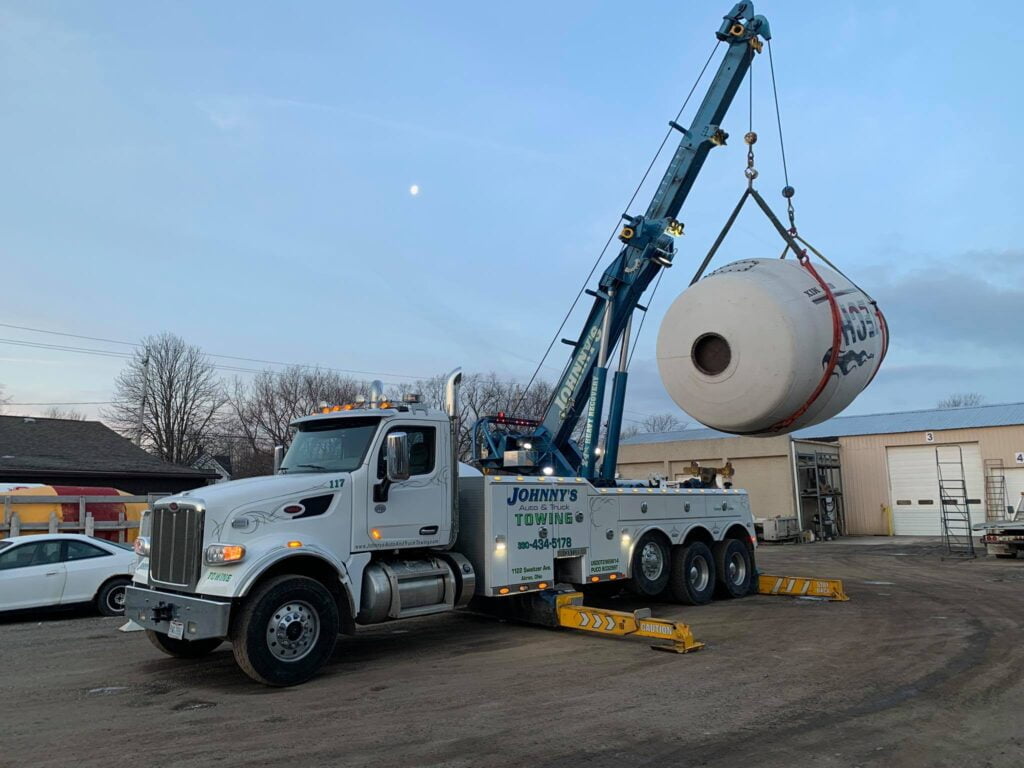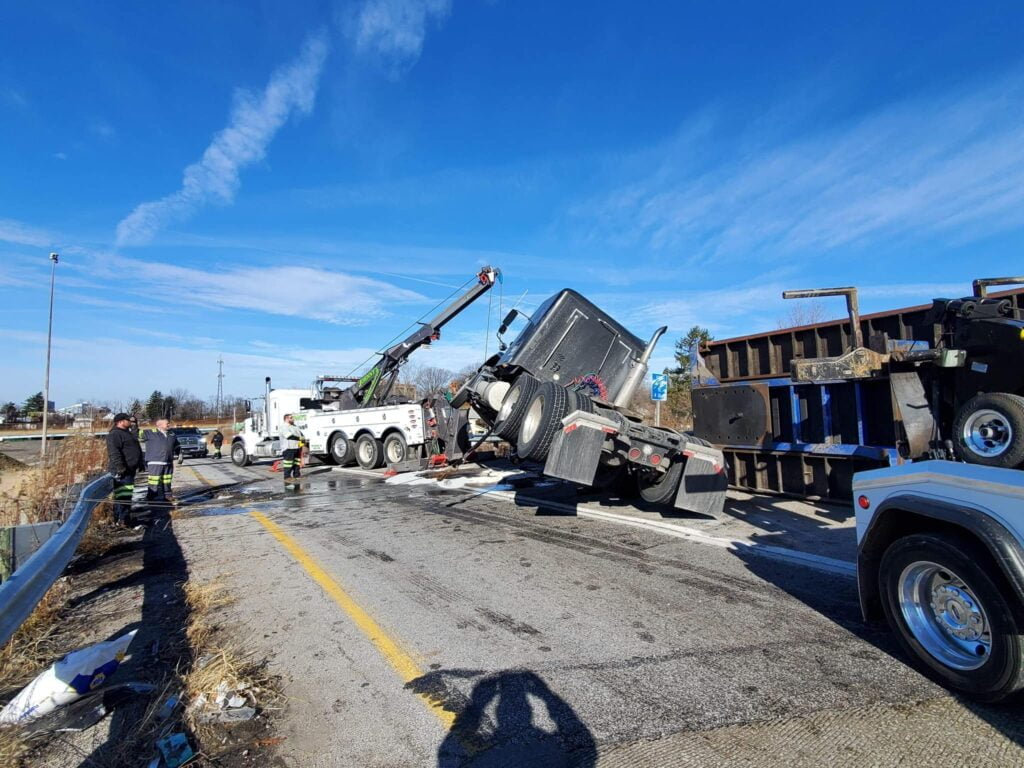 Leaning and Sinking Trailers
A leaning or sinking trailer can create a dangerous hazard that requires a fast and efficient heavy recovery service. Fortunately, Johnny's Auto & Truck Towing is the top heavy recovery company in the area. Our certified operators offer every heavy-duty recovery solution required to safely alleviate your leaning and sinking trailer, such as:
Heavy-duty towing
Heavy-duty winch out and heavy-duty winching
Air cushion heavy-duty recovery
Crane and lifting services
And more
We've never encountered a recovery problem we couldn't solve with our heavy winch out and recovery services.
Heavy Duty Winching Services and Ditch Pull Outs
As the premier heavy recovery company in Akron, OH, Johnny's Auto & Truck Towing offers heavy-duty without service and ditch pullout to accommodate extreme situations. Our equipment can effectively move massive vehicles while preventing further damage.
RV and Bus Winching Service
Semi Truck Winching Service
Low Bridge Semi Recovery Service
Sunken Tractor Trailer Lifting
Jackknife Trucks
Off-Road Winching Services
Underwater Recovery Services
Ditch Pull Outs
Semi Truck Rollovers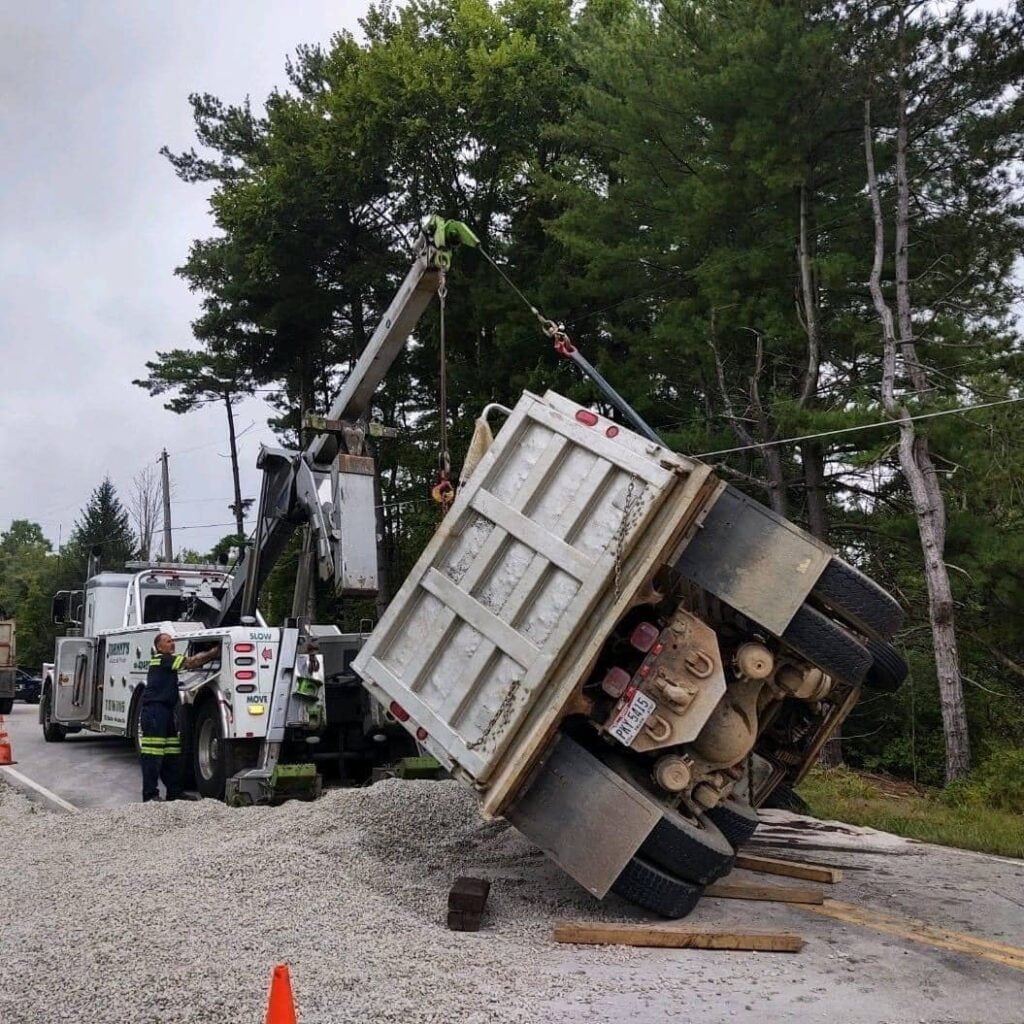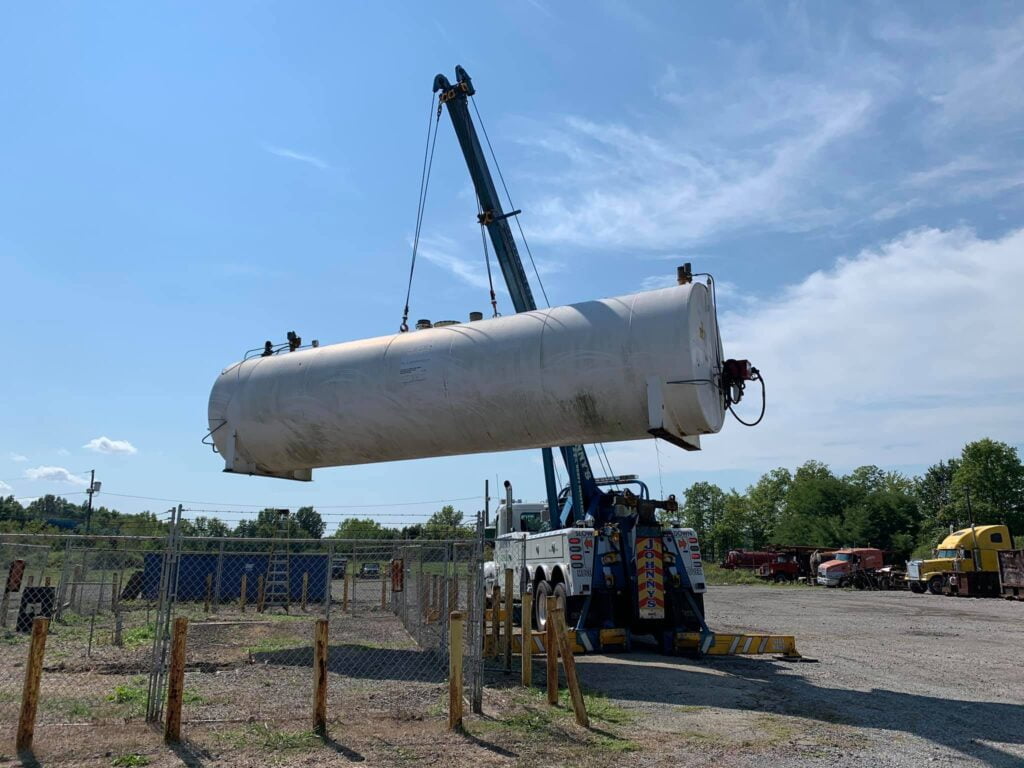 AFFORDABLE FORKLIFT SERVICE AND CARGO RECOVERY
Need forklift service, bobcat service, or cargo recovery? Johnny's Auto & Truck Towings has you covered! We offer affordable rates for forklift service designed to accommodate cargo and loads of all sizes. Our cargo recovery services are perfect for recovering stranded or damaged cargo in a timely and safe manner. Whatever your forklift or cargo recovery needs, Johnny's Auto & Truck Towing can help:
Forklift Service
Bobcat Service
Cargo-Load Swaps
Loading Dock
Cargo Hauling
Cargo Storage
Pallet Jack Service
Steel Coils
HEAVY EQUIPMENT AND MACHINE RECOVERY
Just as semi-trucks, tractor-trailers, and other heavy-duty vehicles can get stuck and need assistance, heavy equipment and machinery can too. When this happens, Johnny's Auto & Truck Towing is the premier heavy recovery company, specializing in recovering heavy machinery and equipment that may be overturned, stuck, or immobilized. Some of the most common types of heavy machinery and equipment we recover include:
50-ton lifting capacity
Boom Lifts
Trailers
Bucket Trucks
Farming Equipment
Tractors
HVAC
Steel Coils
Factory Moving
Excavators
Flatbed Trucks
Skidsteers
Fork Lifts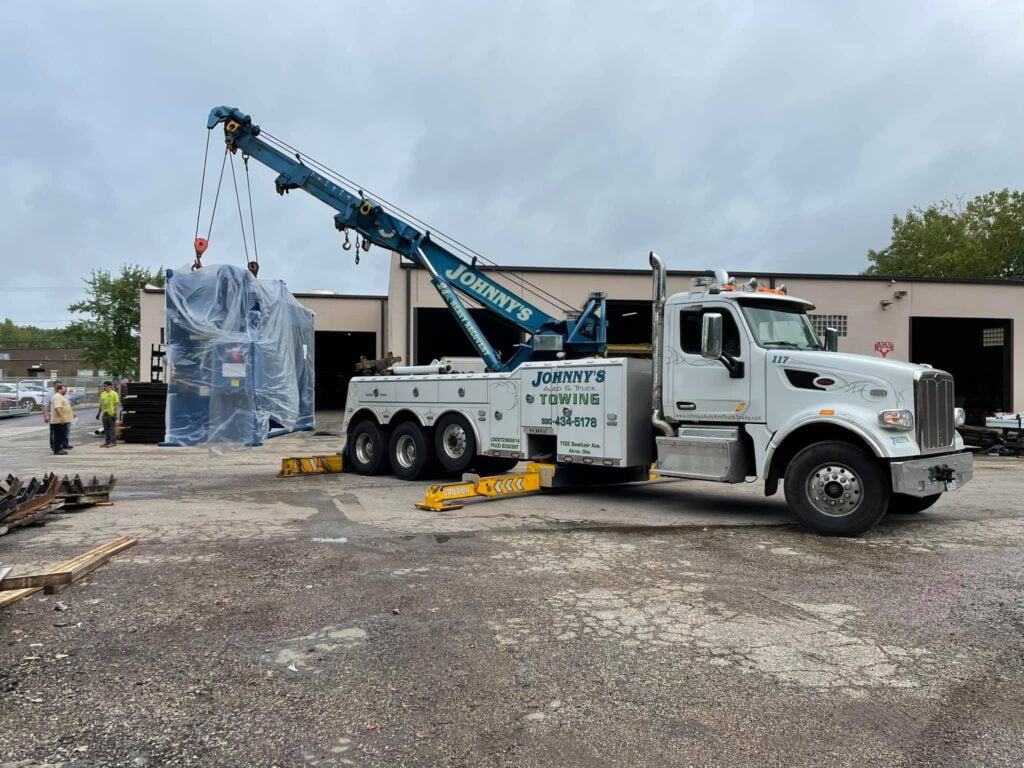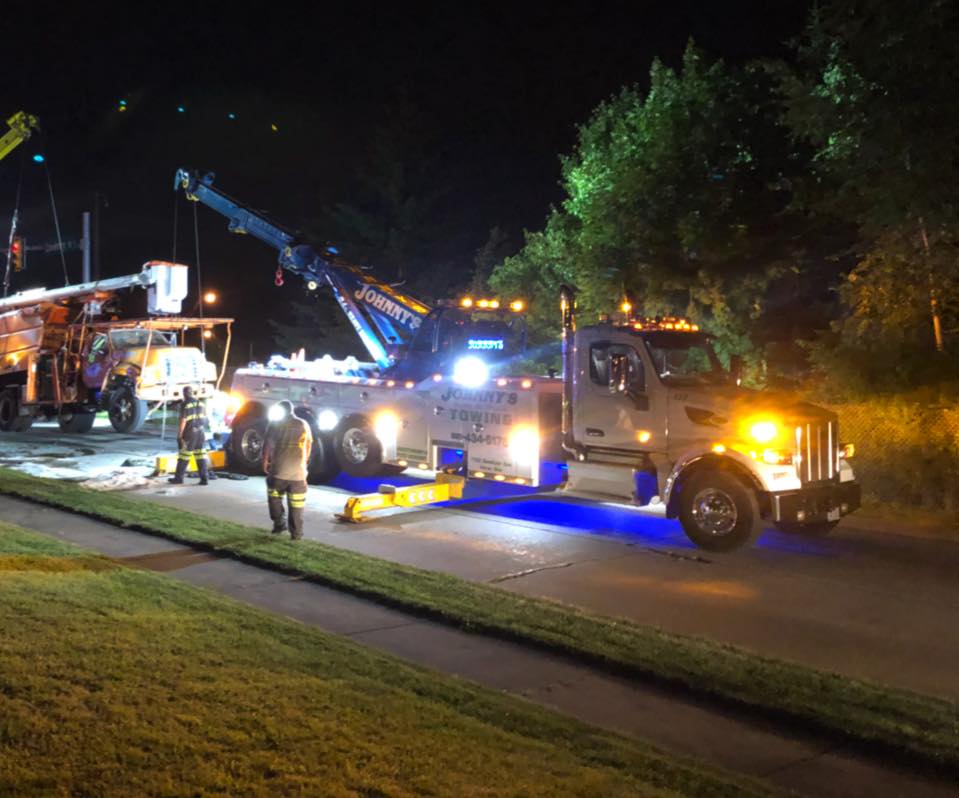 SEMI TRUCK ROADSIDE ASSISTANCE
If your semi-truck has put you down, Johnny's Auto & Truck Towings can get you up and running. We offer an array of 24/7 semi towing and semi roadside assistance services to remedy many problems commercial truck drivers experience on the road. Our semi-truck roadside assistance service includes but isn't limited to:
Semi towing
Diesel and mechanical repairs
Tire changes
Fuel delivers
Jump starts
Lockout assistance
Off-road recovery