24/7
Tow Truck Service

in Akron, OH
Emergency Towing Services & Roadside Assistance in Akron, OH
While no one wants to need a Akron tow truck company or roadside assistance, it is a reality of driving or owning a vehicle. And when you need the best, most reliable, and most affordable towing services, Johnny's Auto & Truck Towing checks every box.
Get a Quick Tow Truck Now
What People Say About Johnny's Auto & Truck Towing
Hi I'm Brittany from Akron Ohio They are quick to respond and very nice in price,I appreciate they're business Johnny's Auto & Truck Towing customer service was great also
Absolutely five stars. Amazing customer service skills very fast. Friendly best towing company I've ever dealt with highly highly recommends I'm not sure why they are rated 3.5 because they should absolutely be five stars. It was phenomenal service and all of this happened on Easter when they should have been home with their families. They came out and got my family out of a bad position in a dangerous spot on the highway. Thanks guys. Your team is amazing
thank you for the fast, very courtesy service. Josh was very friendly and very fast at loading my car. He was very thorough and explained everything. it was a safe ride home and he pulled my car into my drive. I truly appreciated the service and the company.
My truck ended up at Johnny's after an accident, I had to wait 2 weeks to bail her out, due to my pay schedule. The gentleman running the shop when I went in was super nice and helpful. He was apologetic about the cost being so high. I completely understand its not his fault, he doesn't make the prices. We went out back and found my truck. She was in way worse shape than I initially realised. I was hoping I could drive it out, but that was not the case. I asked if they could tow it to my home (10 blocks away), he agreed to do so. I paid for the tow, and didn't pressure about when it had to be done. About 1 1/2 hours later the other driver brought her home. They were very accommodating and very pleasant. Both men were professional and helpful. I would recommend Johnny's and I will be calling them if I have any problems in the future.
Johnny's Auto & Truck Towing picked us up halfway between work and home (which is a seven hour drive) took us in with our vehicle and allowed us to wait for hours on a ride. Made us feel very comfortable and at home. Couldn't have asked to be treated better. Held our stuff until we were able to come get it. Prices were very fair. Highly recommend them.
A fantastic job done by the driver Roger. He was professional, efficient, and friendly. He had my car with a broken tie rod on the flatbed in less than 3 minutes, and even helped me by dropping the car off in my garage with little effort. This towing company offered the best price after calling 3 others that were closer to my car. Thank you all so much for the service!
My car died getting off the exit ramp, the state trooper called a tow service Johnny's came out to assist. The tow driver Josh was extremely helpful and super kind!! Would definitely recommend thus place to anyone!!
awesome sauce! Within 15 20 mins he was there and super sweet . Thank you Brian! Also the best price!
Last night me and my fiancé were in a horrible predicament, & We had gotten assistance from Mike In Akron & He was absolutely amazing. He went above & beyond expectations. You don't find too many genuine people like mike anymore! This man deserves some recognition. I highly recommend this place! It was pretty quick & not too expensive !!! In my opinion , Mike the perfect example of how every employee should be!
The lady who answered the call was very friendly and thorough. She made sure she got all the needed information for the tow and gave me an eta & kept it.
They have the most friendliest, professional and helpful drivers we have every seen!!. We are from PA and they went above and beyond to help us when my son wrecked vehicle. Thank you again guys for all you did for us!!!
We recently were stranded beside the highway with a flat tire on our way to the airport. We got Johnnys towing dispatched. The driver got there as soon as he could. We told him what happened and the time crunch we were in, the driver was unbelievable. He had the car on the tow truck in less than 2 minutes and had us to the tire shop in no time flat. We would have never made it without his quickness and wonderful service. We made our flight but it wouldn't have happened without Johnnys Towing!
So Mike The tow driver we had last night was absolutely phenomenal. He was so helpful & went out of his ways to make sure we were okay. This man definitely deserves recognition!!! I wish there were more people like him!
A Republic Waste trash truck broke down in front of my house. Two tow trucks were dispatched (Ben and Dennis) and they were amazing. My son (with multiple disabilities) watched intently and they were so great to him. I am so impressed and amazed at what I saw while they were working rigging the truck to be towed. I will never again look at a tow truck and it's driver the same way...these guys had to be so well versed in hydraulics and everything else mechanical, and believe me, if you operate a tow truck you don't need a gym membership! These guys got in a workout and a half. Just very impressed. Job well done. Will try to post some pictures.
Very professional very accurate went above and beyond Mr. Josh is the best I highly recommend him for services best experience I've ever had with a towing company 😍 also reasonable pricing.
Called them and they were at my vehicle in 10 minutes. Drivers name was Keith ,he was quick and friendly. Really appreciate it
AMAZING COMPANY!!! Jonny's Towing is top of the line. We are not from the area, not even from the state and they treated us like family! We were told no by every other towing company in the area and they went out of there way to help us! I would recommend this place to EVERYONE!!
I've used this company several times, they are reliable and reasonable.
Really nice people who personally went above and beyond for us. Thank you.
Cool people, up front, on time very prompt service. I like the fact they made me feel like they new me an didn't mind me asking questions
Akron Towing Service - Your Local Towing Company in Akron
We get it — being stuck on the side of the road in Akron, OH is the last thing most drivers want to deal with. But if you find yourself in this situation and need a quick tow truck, Johnny's Auto & Truck Towing offers 24/7, around-the-clock, quick towing services for all types of vehicles.
We are the leading towing company and roadside assisting company in Akron. This means we are fast, transparent, professional, and honest, always striving to treat you with the integrity you deserve. No matter the time of night or day, Johnny's Auto & Truck Towing is always a phone call away!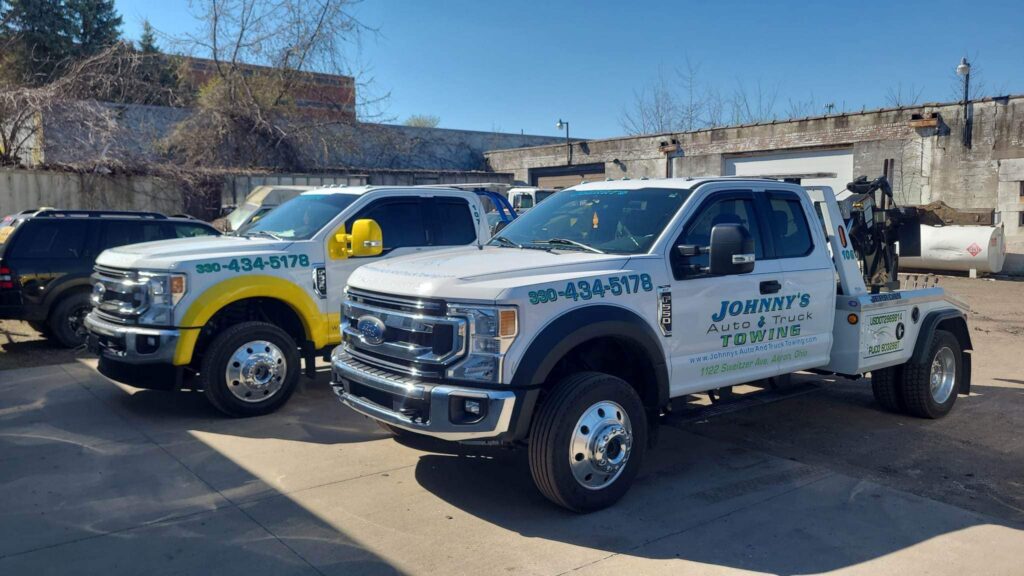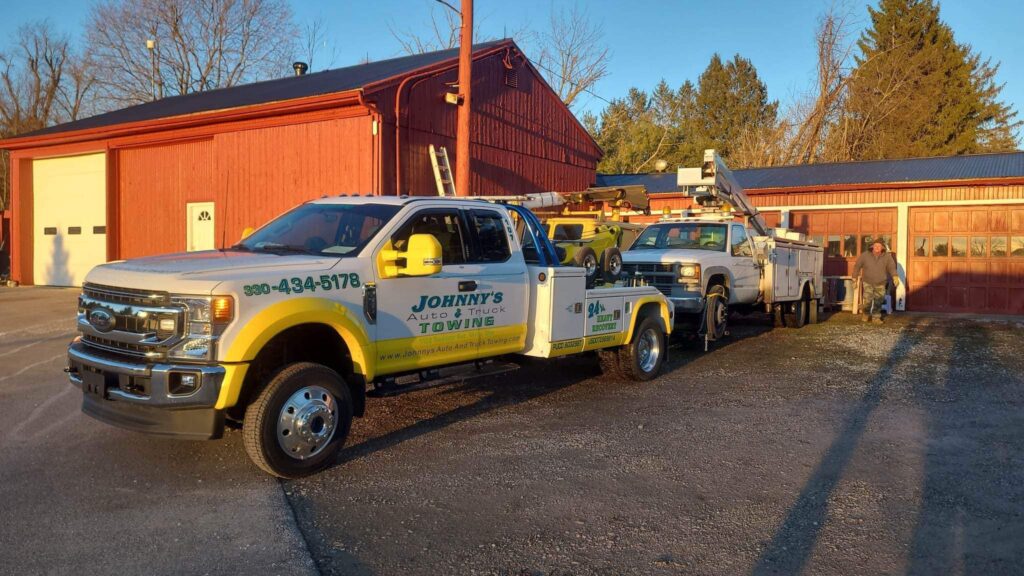 Do You Need a Quick Tow Truck Near Me in Akron?
Looking for a quick tow truck in the Akron area? If so, Johnny's Auto & Truck Towings has you covered! We offer towing services, roadside assistance, and virtually every other solution you need to get moving.
When you need a quick tow truck or roadside assistance in Akron, OH, Johnny's Auto & Truck Towing will meet your needs and exceed your expectations. We're proud to offer a full array of emergency towing services and roadside assistance solutions for all types of vehicles. We have invested in the most advanced equipment to provide comprehensive, end-to-end, 24/7 emergency towing and roadside assistance services in the fastest and most professional manner.
Why Should I Choose Johnny's Auto & Truck Towings as my Tow Truck Company?
Johnny's Auto & Truck Towings has delivered quick towing and roadside assistance services for 75+ years in the industry. Over the years, we have continued to grow and thrive behind our unwavering commitment to transparency, honesty, and integrity.
Today, we are the premier towing and roadside assistance provider in the Akron, OH area. Give us a call to find out why we are the area's most trusted towing service provider. Our reputation for exemplary service and expertise is unmatched in the industry!