Heavy Machinery Towing in Akron, OH
Heavy equipment towing involves the end-to-end process of heavy machinery moving. While every tow truck company may offer light-duty towing, only the best and most well-equipped companies can perform heavy machinery towing and heavy equipment towing in Akron, Ohio and surrounding areas.
At Johnny's Auto & Truck Towing, we offer heavy equipment towing for machinery in all shapes, sizes, and weights. Some of the most common types of heavy equipment towing and heavy equipment transport we provide include:
Grader heavy machinery towing
Crane heavy equipment towing
Bulldozer towing
Agricultural equipment towing
Construction heavy machinery towing
And more!
Whether you need heavy equipment towing to a garage for repair, or heavy machinery towing to a diesel mechanic for servicing, Johnny's Auto & Truck Towing has the expertise and tools to get the job done efficiently and safely. Most importantly, our well-trained, professional heavy machinery towing operators have unmatched experience and will exceed your expectations at every turn.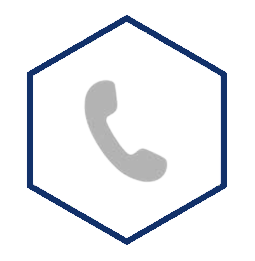 To learn more about our 24/7 Heavy Equipment Towing Service and to speak to a member of our team, call us at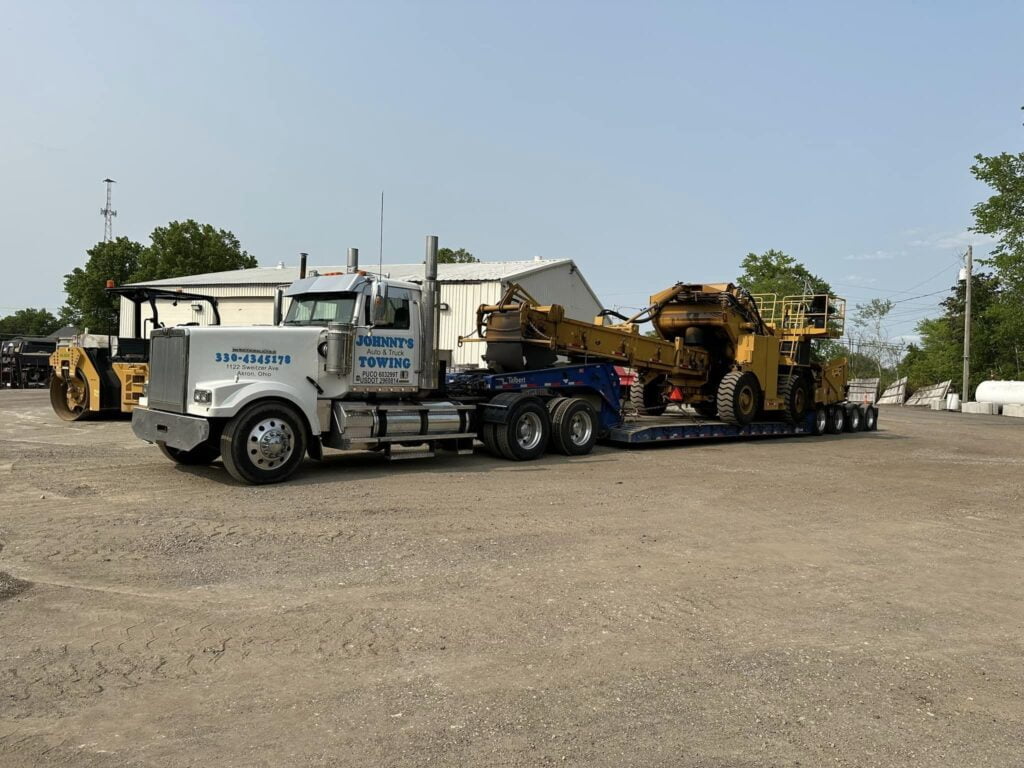 Akron's #1 Heavy Equipment Hauling Company
At Johnny's Auto & Truck Towing, we are the leading heavy equipment hauling and heavy machinery transport company in Akron OH. Construction companies, contractors, and farmers have consistently turned to Johnny's Auto & Truck Towing for our specialized heavy equipment hauling and heavy machinery hauling.
We have invested in the latest and most advanced equipment designed to safely and efficiently provide heavy equipment transport, heavy equipment moving, and more. In addition, our heavy equipment hauling operators have extensive experience moving large equipment over short and long distances. Wherever the destination, the heavy equipment transport operators at Johnny's Auto & Truck Towing will get you there.
Get a Quick Tow Truck Now
Cargo Load Shifts, Load Swaps and Transfers
Has your heavy equipment or load become unbalanced due to uneven roads, improper loading, or sudden braking? Unbalanced loads can create a hazard and lead to your vehicle tipping over. To alleviate this hazard, Johnny's Auto & Truck Towing offers cargo load shift services.
Load swaps are when we exchange one shipment for another to increase efficiency and optimize shipping routes. Load and heavy equipment transfers involve moving cargo from one mode of transportation to another. Johnny's Auto & Truck Towing offers fast and safe load transfer services for heavy machinery transport to prevent damage and loss.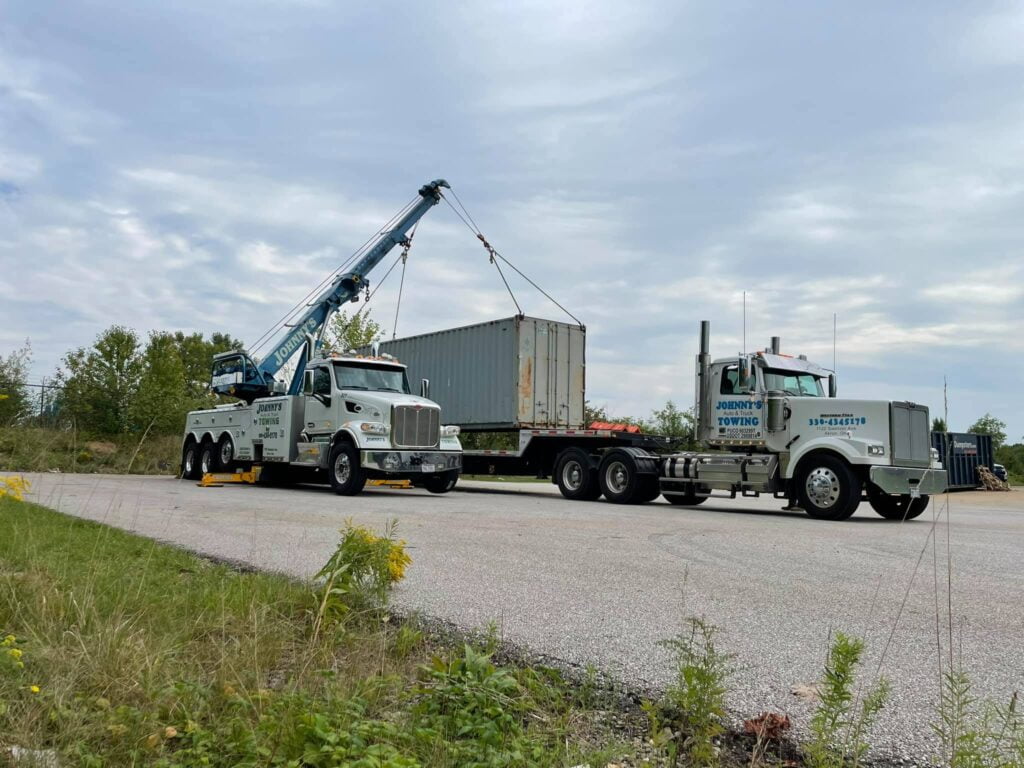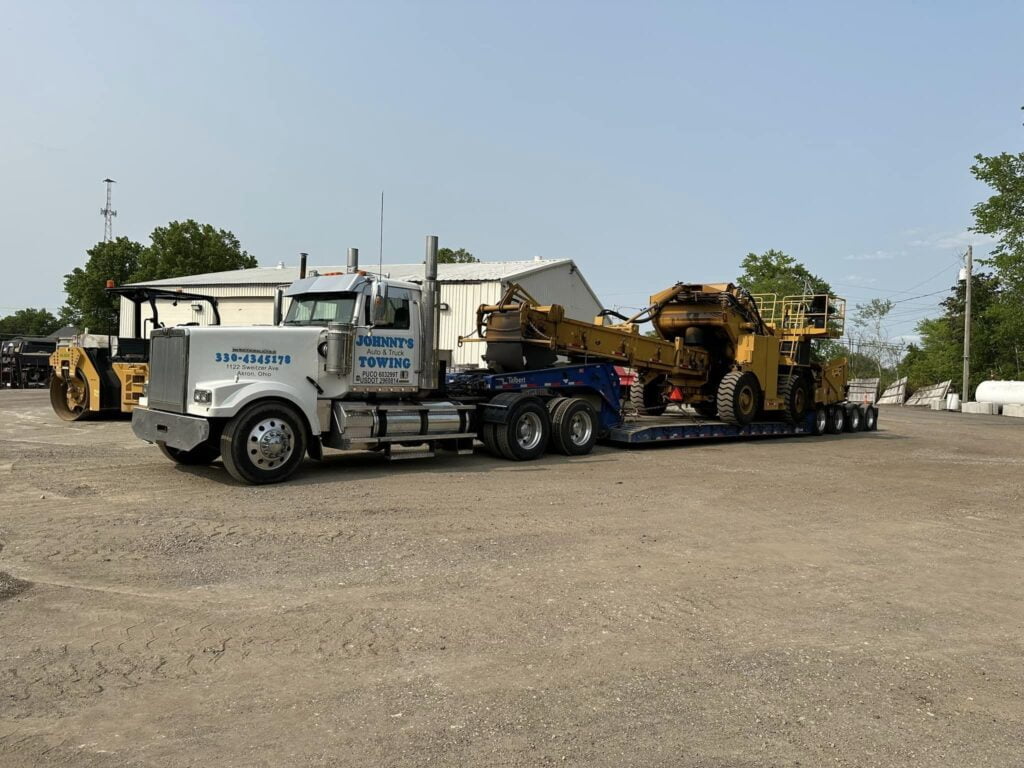 HEAVY EQUIPMENT TRANSPORT - HEAVY MACHINERY HAULING
In the most general sense, heavy equipment towing involves moving broken down equipment that needs to be serviced. On the other hand, heavy equipment hauling, heavy equipment transport, and heavy equipment moving can be used to move machinery over longer distances.
Moreover, wheeled vehicles like buses and semi-trucks can only be towed short distances with wheels on the ground. However, heavy equipment hauling involves the use of flatbeds and other types of equipment to move machines and equipment longer distances.
Whether you need heavy equipment towing or heavy machinery moving, Johnny's Auto & Truck Towing is your one-stop shop. We have the tools and experience for heavy machinery transport, hauling, and moving over extended distances in and beyond the Akron, OH area. Simply put, Johnny's Auto & Truck Towing will get\ your equipment there as efficiently and safely as possible.
Heavy Duty Winching Services and Ditch Pull Outs
At Johnny's Auto & Truck Towing, we specialize in a range of recovery services for all classes and sizes of vehicles, including heavy equipment and heavy-duty vehicles. We have invested in state-of-the-art, heavy-duty winching solutions and ditch pull-out equipment to quickly and safely recover your vehicle. Some of the most common types of heavy-duty winching and ditch pull-out services we perform include:
RV and Bus Winching Service
Semi Truck Winching Service
Low Bridge Semi Recovery Service
Sunken Tractor Trailer Lifting
Jackknife Trucks
Off-Road Winching Services
Underwater Recovery Services
Ditch Pull Outs
Semi Truck Rollovers