Semi-Truck
Decking & Undecking

Service
Professional Semi Truck Decking & Undecking Service in Akron, OH
If you're looking for the best semi-truck decking service or semi-truck undecking service in Akron, Johnny's Auto & Truck Towing is here to assist. Since 1927, our highly-trained and certified operators have delivered fast, professional, and cost-effective semi-truck decking and undecking solutions in and around Akron.
We offer the equipment, expertise, and tools to deck or undeck any vehicle, including box trucks, semi trucks, straight trucks, and sleepers. Whether it's a straight truck, semi-truck, day cab, sleeper, or anything else, Johnny's Auto & Truck Towing offers an array of solutions to help you safely and efficiently deliver your load. When you need a semi-truck decking service or semi-truck undecking service done right and efficiently, contact Johnny's Auto & Truck Towing.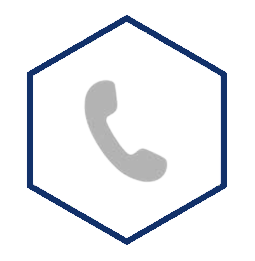 To learn more about our 24/7 Decking & Undecking Service and to speak to a member of our team, call us at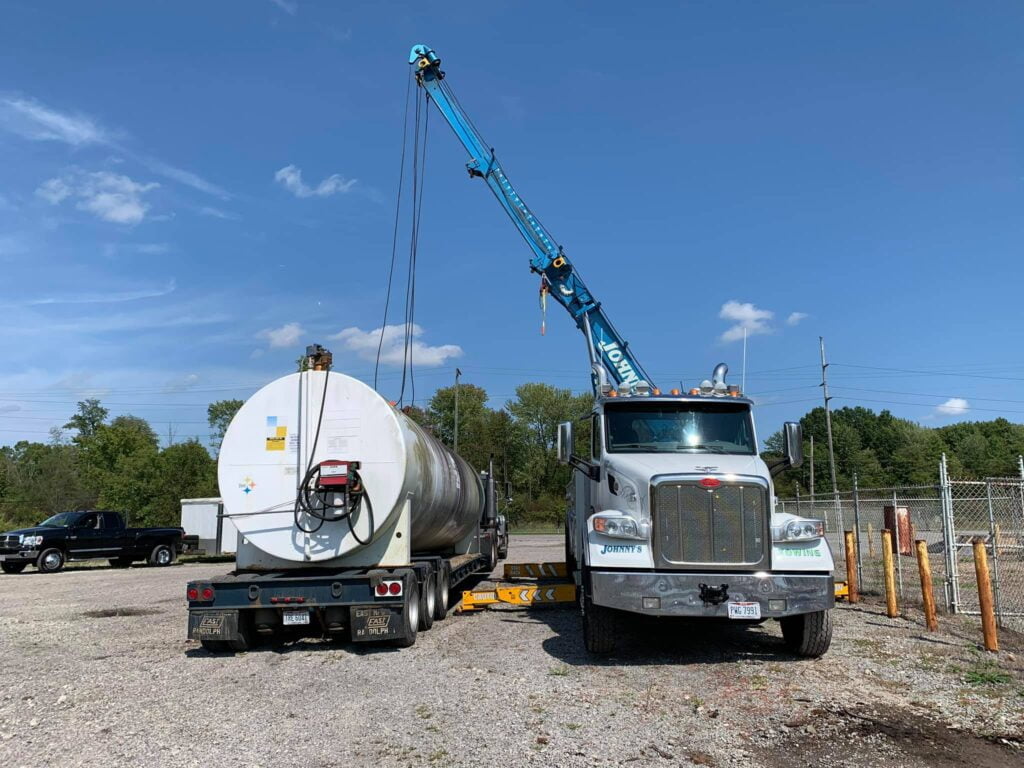 Akron Off Loading Service & Loading Service
Our certified operators offer a comprehensive off-loading service and loading service for any truck or piece of equipment. Each professional heavy towing technician has been trained to deliver the solutions you need. Don't run the risk of damaging your cargo. Instead, trust the seasoned experts at Johnny's Auto & Truck Towing for off-loading service and loading services.
Decking and Un-Decking
Mobile Loading Dock
Off-Loading Semis
Open Trailers
Enclosed Trailers
Heavy Equipment
Specialized Machinery
Cargo Transfers
Loading Ramps
Forklift Service
Tractor Trailer Recovery Services
Whether it's 2:00 AM or 2:00 PM, our tractor-trailer recovery services are always available. We have invested in the most advanced and reliable, state-of-the-art equipment required to recover tractor-trailers in virtually any situation, including jackknife accidents, roll-over trailer accidents, tire blowouts, and more. In either case, we offer a variety of towing vehicles and equipment to safely and quickly recover and tow tractor-trailers.
Over the years, we've gained extensive experience and understand the best practices to safely provide the services you need while avoiding damage and accidents. We are the trusted partner for several owner-operators and trucking companies throughout Akron OH and the surrounding area.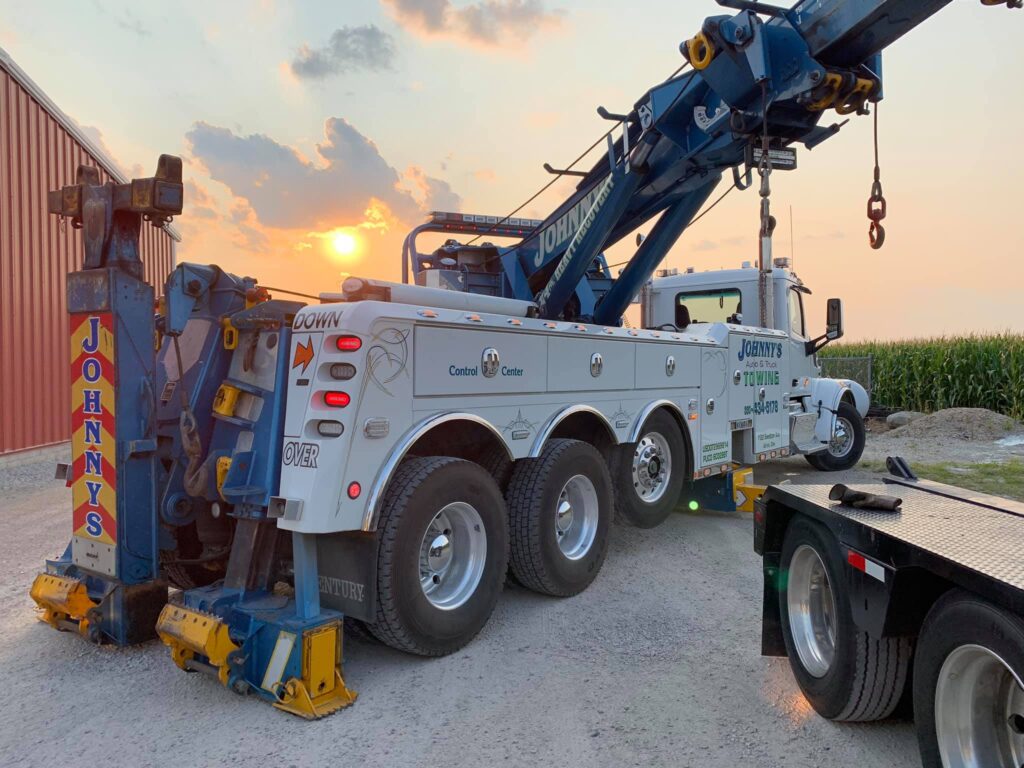 Get a Quick Tow Truck Now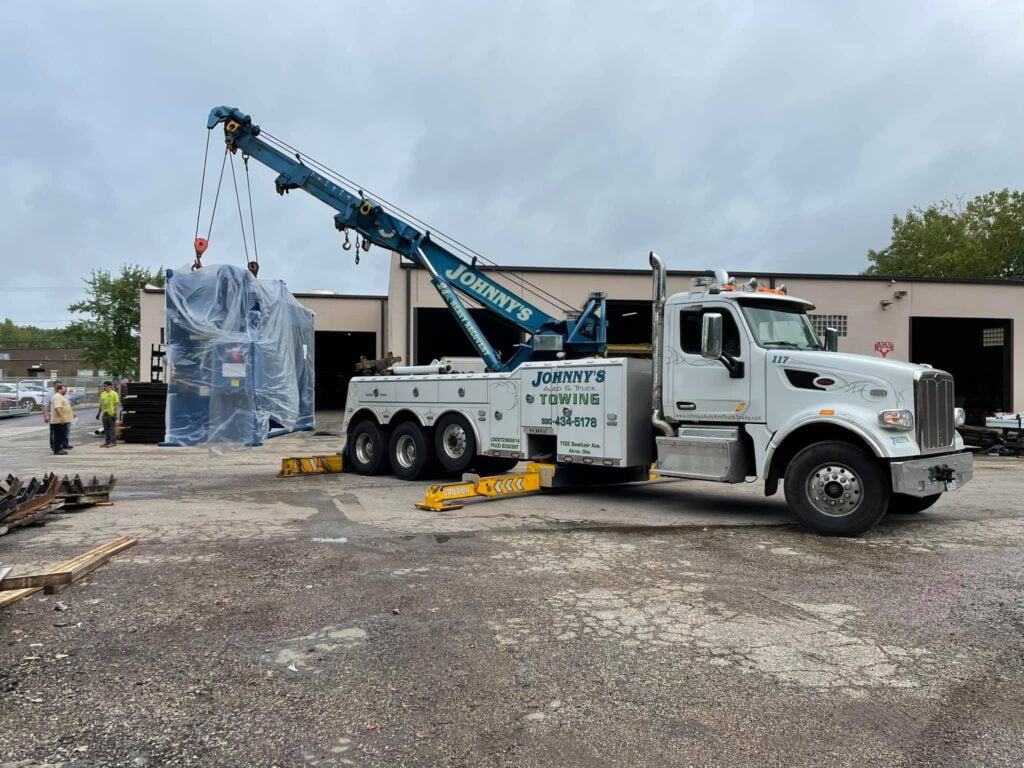 Heavy Duty Towing Near Me - Heavy Towing Service
At Johnny's Auto & Truck Towing, we specialize in heavy-duty towing services for all heavy-duty vehicles, including big rigs, bobtails, garbage trucks, busses, motorhomes, RVs, semi-tractor trailers, farming equipment, construction equipment, and more.
No matter the size or dimensions, our heavy-duty trucks are equipped with higher wheel lifts, advanced towing technology, and tools to ensure the safe towing of your vehicle.
Cargo Load Shifts, Load Swaps and Transfers
Whether it's swapping the trailer or the load, Johnny's Auto & Truck Towing offers emergency roadside assistance to help with every on-road need. Our seasoned experts specialize in cargo load shifts, load swaps, and transfers using industry-leading best practices and cutting-edge equipment to provide fast, effective results for your cargo.
Based on your unique needs, we can provide 24/7 complete load shifts and load transfers in any trailer. Whatever your needs, our comprehensive semi truck decking service and semi truck undecking service will meet them.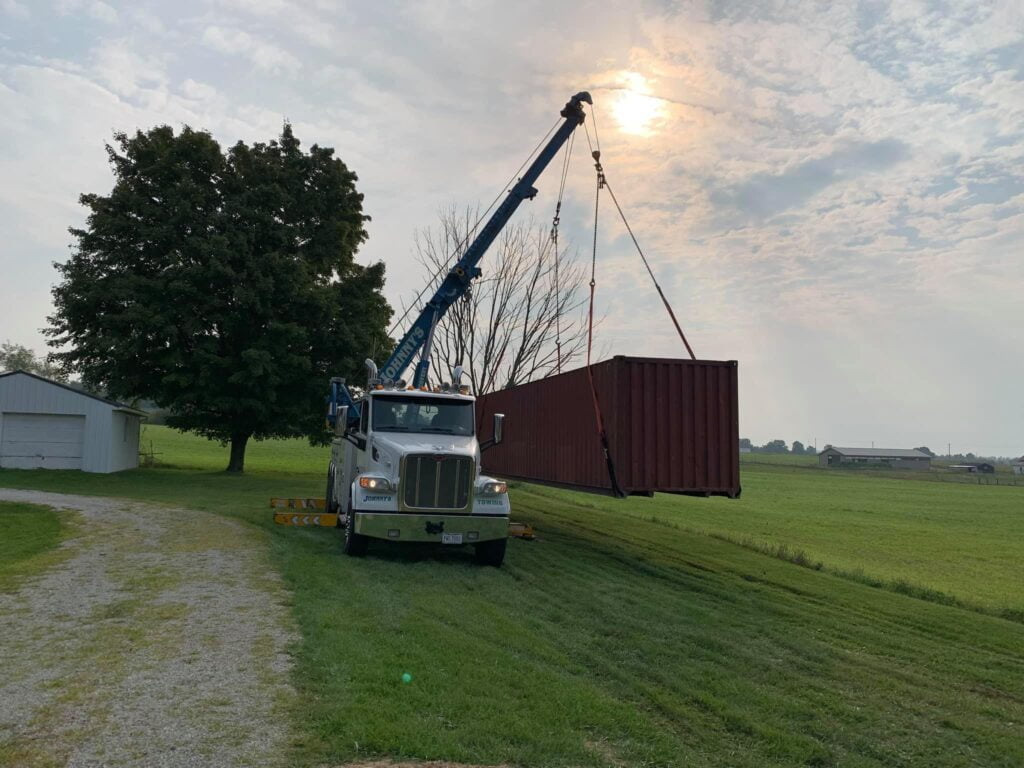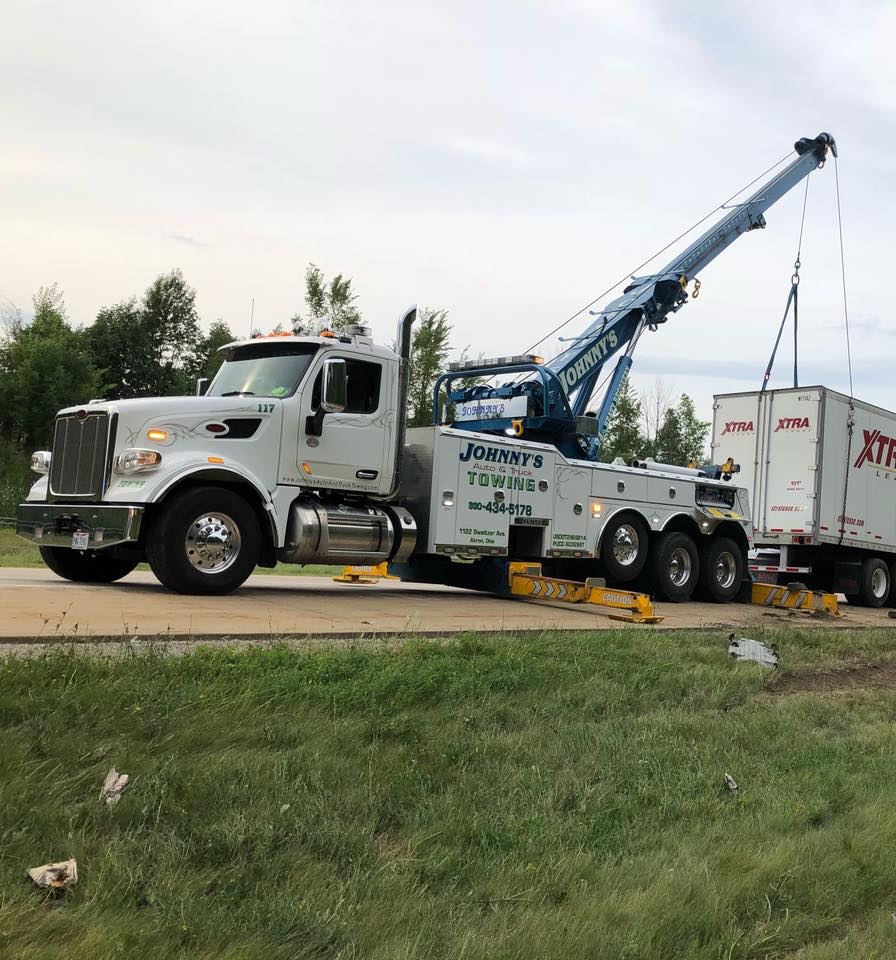 Affordable Akron Forklift Service & Cargo Recovery
Johnny's Auto & Truck Towing offers a full range of forklift services and cargo recovery in Akron, OH. Simply put, we can handle any job and solve any problem. No matter the time of day or night, Johnny's Auto & Truck Towing offers fast, affordable, and efficient cargo recovery and forklift services in Akron.
Forklift Service
Bobcat Service
Pallet Jack Service
Steel Coils
Cargo-Load Swaps
Loading Dog
Cargo Hauling
Cargo Storage
Paper Clamping
Heavy Duty Winching Services and Ditch Pull Outs
Even the most careful and skilled owner-operators and truck drivers can get stuck. If you find yourself in this situation, the certified operators at Johnny's Auto & Truck Towing can help. We utilize heavy-duty tow winches and cutting-edge technology to safely and securely remove semi-trucks, tractor-trailers, and more from ditches. Our extensive array of heavy-duty winching and ditch pull-out services include:
Trailer roll-overs
Semi-truck winching service
Low-bridge semi-recovery service
Underwater recovery service
Off-road winching
Cargo recovery
Trailer lifting
Trailer uprighting
And more